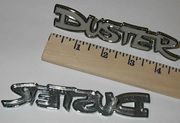 Two real OEM Chrysler made Duster name plates. Made of heavy chrome plated potmetal with that greenish-yellowish insert. Two attaching pins-not stick on! These are used on the fenders or rear body.
Get real! Get MoPar!
WHICH CARS DOES IT FIT?
see above

NOTICE:
All items are sold with the assumption that the buyer has access to sufficient knowledge to install the parts correctly or has access to a professional mechanic. If you have a question about this or other parts, e-mail me and one of our parts technicians can research it for you.