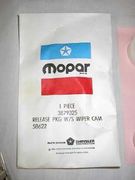 Part Number 2932869 (Same As 3431761, 3879325) This nine piece kit fits all 70-74 B, E, C Body cars with 2 speed wiper motors. Includes the retainer, plastic retainer bushing, 2 releases, 1 parking spring and 3 washers. Plus it includes a special assembly lube pack. All of these items will be found at the rear of the wiper motor. Chances are that your 30 year old plastic pieces are broken or missing and the motor will not operate properly. Get this kit to fix that problem.


WHICH CARS DOES IT FIT?

See Above.
NOTICE:
All items are sold with the assumption that the buyer has access to sufficient knowledge to install the parts correctly or has access to a professional mechanic. If you have a question about this or other parts, e-mail me and one of our parts technicians can research it for you.