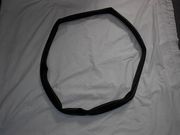 Part Number 3418658 is one genuine New Old Stock Mopar! (not reproduction) rubber seal. The large seal that attaches around the perimeter of the shaker base plate sealing against the hood when it is in the closed position.

WHICH CARS DOES IT FIT?

Fits: 70-71 Plymouth Cuda; Dodge Challenger

NOTICE: All items are sold with the assumption that the buyer has access to sufficient knowledge to install the parts correctly or has access to a professional mechanic. If you have a question about this or other parts, e-mail me and one of our parts technicians can research it for you.